Facebook's answer to SaveTheInternet: Save Free Basics : After the success of "SaveTheInternet" campaign, Facebook recently launched its own campaign under the banner "Save Free Basics" in the hope that it can neutralize the damages done by the former.
Now, when an Indian opens Facebook, the first thing he or she will see is the Save Free basics campaign at the top of the news feed which exhorts the user to send a message to the TRAI displaying his or her support for Free Basics in India.
Save Free Basics veils itself in the cover of supporting Digital India. The campaign page contains a pre-written message to TRAI stating that the Free Basics initiative has the potential to connect 1 Billion Indian online. It also emphasizes on the point that a billion Indians would be affected if the Free Basics program is shut down.
The page attempts to influence the users to send the pre-written response claiming, "Free Basics is in danger in India". It also points to its anti-campaign, "SaveTheInternet" and tries to influence people against it by stating," A small, vocal group of critics are lobbying to have Free Basics banned on the basis of net neutrality. Instead of giving people access to some basic Internet services for free, they demand that people pay equally to access all Internet services, even if that means 1 billion people can't afford to access any services… Unless you take action now, India could lose access to free basic Internet services, delaying progress towards digital equality for all Indians. Tell the TRAI that you support Free Basics and digital equality in India".
The pre-written is message is as follows:
"To the Telecom Regulatory Authority of India, I support digital equality for India. Free Basics provides free access to essential Internet services, such as communication, education, healthcare, employment, farming information and more. It helps those who can't afford to pay for data, or who need a little help with getting started online. And it's open to all people, developers and mobile networks. With 1 billion Indian people not yet connected, shutting down Free Basics would hurt our country's most vulnerable people. I support Free Basics and digital equality for India. Thank you."
The Web form contains a 'Send Email' submit button which apparently lets Facebook send your response along with your name and email address to TRAI. However, it's not as transparent as it sounds. The page works in incognito, which means users need not be signed into Facebook to support the campaign. Due to which, users can send anonymous messages with random names, without having provide any email address.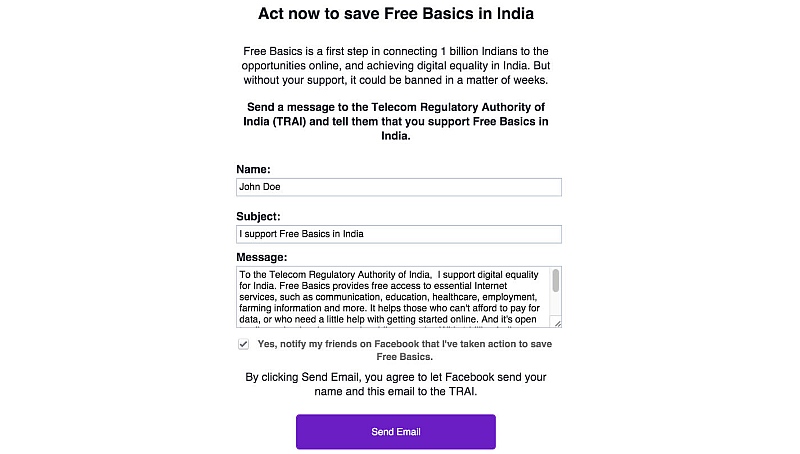 Karthik Balakrishnan, a net neutrality activist and expert, who is amazed by this move, said," This is something new, that Facebook is officially doing". Karthik also happens to be one of the volunteers behind "SaveTheInternet" campaign that sent over 1.1 million emails in April this year in response to TRAI's consultation paper.
He also added, "I would be very surprised if they send emails to TRAI for every submission that happened. Even though the campaign says email, it's mostly a signatory thing, they will collect all of this and send a collated list to claim that certain number of people have campaigned to save Free Basics."
Quoting a Facebook spokesperson, in light of these events,
"Hundreds of millions of people in India use the Internet every day and understand the benefits it can bring. This campaign's goal is to give these people the opportunity to support digital equality in India and help connect the billion who remain offline by giving them a voice in the public debate that is being held by The Telecom Regulatory Authority of India on differential pricing for data services".
On December 9, TRAI issued a new consultation paper on 'differential pricing for data services', which will be open to comments and feedback till December 30.