Want to try something interesting on Facebook. First Log in to Facebook, create a post and then type 'Tsu.co', Facebook will block(censor) your post. In addition to that Facebook will block 'Tsu.co' on its every platform like Facebook messenger, Facebook App, Facebook Lite, Instagram, etc.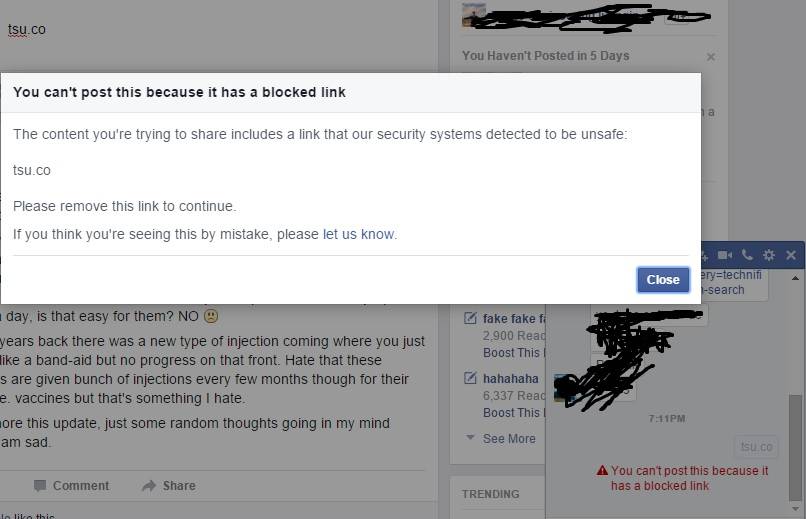 Facebook has censored Millions of post which mentioned 'Tsu.co'. Each and everything on Facebook related to Tsu.co is deleted. If your message contains 'Tsu.co' then the message would be automatically sensored.
We know that 'Tsu.co' is a competitor of Facebook. So, it's okay that facebook blocks 'Tsu.co'. But what we noticed is any link containing Tsu will be censored, which is not at all a good thing.
When tried to contact Facebook, Facebook said 'Tsu links are spam'.
Tsu is replies said 'Facebook is a gigantic censorship-happy bully that wants to kill off competitors.'
Now let we tell the story,
On 25th September, 2015 Tsu users discovered and started complaining that they could no longer post 'Tsu.co' on Facebook or Instagram. So, Tsu employees reported this thing to Facebook.
And facebook replied that the error message comes because the content was a spam.
What Tsu is all about amd what is Tsu ?
'Tsu is an invite-only platform that rewards social activity for all users. You can share photos, videos, and any type of content with your friends and followers.'
'Tsu is a free social network and payment platform that shares up to 90% of revenues with its users.'
Tsu is 1 year old startup which created a record of reaching 1 million users in just its first five weeks. And after 1 year Tsu has 4 million users and on the other side Facebook there is 2.4 billion users. Though facebook is trying to block Tsu for its increasing popularity and user base.
Carolina Franco, a 28-year-old model in Colombia, thinks that very few people know about Tsu and being a competitor Facebook wants to stop Tsu before it goes viral.