Droom Gloves Sale 2021, Droom is Giving Away Bikers Gloves Worth ₹400 In Just ₹9 Only In Flash Sale. Flash Sale Amount Will Change Every Hour On Sale Date & It Will Go ₹9 to ₹79 According to Hour. This Droom Gloves Flash Sale Offer is live on 6th October 2021, but you need to register for the sale by following the below-mentioned steps.
Droom GO Gloves Flash Sale Time and Date:
Droom's Go Gloves Flash Sale will be live soon. If you are a biker and looking for an amazing pair of riding gloves then this sale is only meant for you. Droom is offering the premium gloves at just Rs. 9 only.
Today we are giving all the details of the sale so that you can easily avail these offers. Check out the below details:
| Droom Gloves Flash Sale | Details |
| --- | --- |
| Next Sale Date – | 15th September 2021 |
| Time – | 10 AM to 6 PM |
| Product – | Droom Biker Gloves |
| Sale Price – | Rs.9 |
How To Get 'Droom Go Gloves' in Flash Sale At ₹9 Only
Go to this Droom Grove Page
Then Register With Your Name, Valid Mobile Number and Email.
Done. You Have Successfully Register for the Droom Go Gloves Gone Sale.
Now Sign Up On Droom App (If You Don't Have Droom Account Yet) & Save Your Delivery Address For Faster Check Out.
Droom Go Gloves Gone Sale Will be Live on 6th October from 10 AM till 6 PM.
Now You Can Buy Droom Gloves At ₹9 /- Only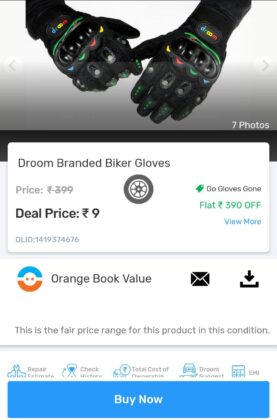 Droom Go Gloves Gone Sale Codes
Droom's sale will be live soon and you will need the exclusive codes for the purchase. Here we are listing the codes with the time and price so the you can easily get these gloves at your way.
Check out the details below:
| Sale Time | Price | Codes |
| --- | --- | --- |
| 10 AM – 11 AM | ₹9 | NEWGLOVESRS9 |
| 11 AM – 12 PM | ₹29 | NEWGLOVESRS29 |
| 12 PM – 1 PM | ₹49 | NEWGLOVESRS49 |
| 1 PM – 2 PM | ₹69 | NEWGLOVESRS69 |
| 2 PM – 3 PM | ₹89 | NEWGLOVESRS89 |
| 3 PM – 4 PM | ₹109 | NEWGLOVESRS109 |
| 4 PM – 5 PM | ₹129 | NEWGLOVESRS129 |
| 5 PM – 6 PM | ₹149 | NEWGLOVESRS149 |