Over the last few days, TikTok received negative impressions from the users. The co-founder of Chingari app Sumit Ghosh praised the government decision of the ban in Chinese apps. Since its arrival in India, TikTok is spying on users and sending the data to China. Chingari app is highly valued in India after the ban of TikTok. Let's see Chingari vs TikTok and find out is it best alternative for TikTok?
TikTok App
Tik Tok is a popular app that delivers interesting and unique special effects to create wonderful short duration videos. It is a home-made application developed in China. This app made a huge impact on youth in India. Also the teenagers were crazy for this application. The people got addicted to TikTok. TikTok is a source of fame to several thousands of teenagers in the world. With this app, the users can create 15 sec videos for recognition and popularity. This social network app is downloaded on Apple app store in iPhones and on Google play store in Android phones.
ALSO SEE | 59 Chinese Apps Banned in India
However it defeated other social networking apps such as Instagram, Snapchat and Facebook. TikTok has a parent Byte Dance company established in China. A record of 500 million downloads happened in June 2019. This application is a perfect app that combines Image Capture and Artificial Intelligence. It uses short-duration creative content by its community and design. Due to the increased popularity of this app among teenagers and youths, Tiktok achieved a high rating of 4.7 in the Google Play Store. This app also provides opportunities to create creative ultrashort videos to countless teenagers throughout the world.
Benefits of TikTok
Entertainment :
The major advantage of TikTok application is serving the people with high range of entertainment. With this application, they can dance, expand their network and become famous with their creative skills. This application gives an opportunity for video-sharing community that is real without any boundaries. The developers of this application say that this app is suitable for people aged 12 and older.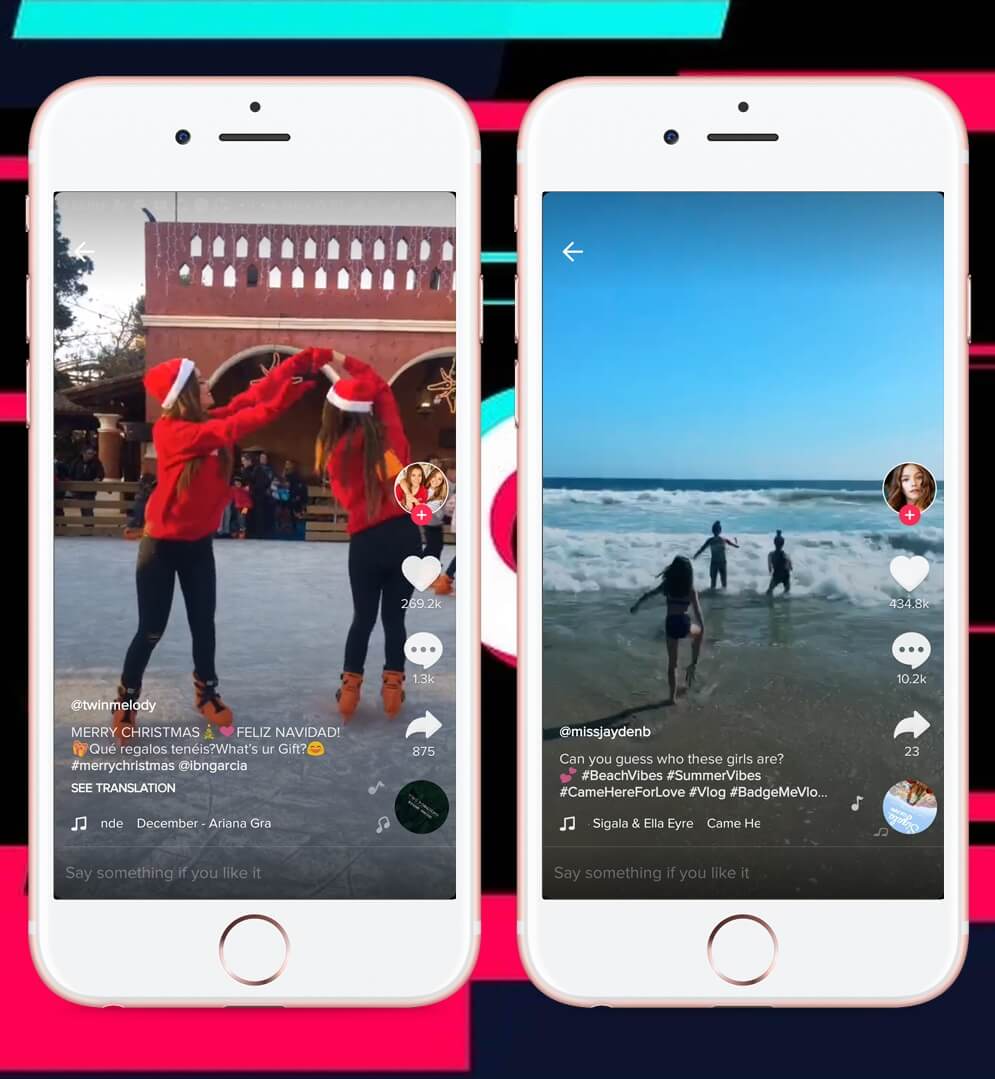 Publicity :
TikTok app acts as an opportunity platform to people who wish to become famous with their specialized skills or talents. This app gives a chance for every user to create interesting music videos and gain instant publicity in the society.
The users don't require any specialized equipment to create awesome videos. The content should be attractive to engage the users and become viral. Once a video attracts the people, the users become popular with wide range of followers.
Disadvantages of TikTok
The negative effects of TikTok due to its misuse, illegal acts, and illegal ways of communication.
Emotional connect :
Although the developers of this application made this app to provide fun, it is annoyed in the society. It is the requirement of every person. They are dependent on it. The application not only attracted the youth but also created a lot of tension among their parents. Also the constant use of this application creates frustration with emotions more than enjoyment for people.
Waste of Time :
This application is a time-waste app as it creates lots of problems. People spend a lot of time in creating music videos. The time spent in creating these videos can be used in learning any new skill or knowledge which may be an advantage to them in the future. Instead of using these meaningless apps, they can use the valuable time in playing sports, focusing on their life, study, and career. The mindset of people changes with the apps which attracts them.
Harassment :
Some of the individuals use this application for making fun of people, community, religion etc.TikTok application is also used by people to degrade others. Recently TikTok released a music video where people dance making fun of religion.
Inadequate content :
The parents are tensed about the inappropriate content in TikTok. A majority of the teenagers are present in inappropriate proposals and poses that do not suit their age. The privacy risks and mature content should restrict the age limit for use of this application to a minimum of sixteen years. As the age limit to use this app is very low, most of the people lie on their age. By increasing the age limit, many people can be removed from this platform. This is a great measure by the government to reduce the reach of TikTok in teenagers.
ALSO SEE | Mitron vs TikTok App
There are many young girls who sing sexually explicit lyrics. Also the fame of the app among young girls exposes them to rude comments and potential abuse. Girls using this app are asked for their contact details or post pictures of them. Not only the teens do it for a genuine career but also for fun. This app is risky. Hence TikTok has created more harm than positive impact on people. So there were many rallies and protests to ban TikTok in India.
Finally Government of India decides to ban TikTok in India. This is a great move from the Government as the people are happy to move forward without wasting time on this worst app. As a result new Indian origin apps such as Chingari App, Mitron App etc. will replace Tiktok.
Chingari App
The newly launched Chingari app is slowly receiving a thunderous response from the users, especially in India. There are protests and social media trends to eliminate the usage of Chinese products, including apps and technological gadgets. So many Indian developers are introducing several games and social media apps. This led to the boom in the market. One of them is the Chingari App. However, many people are wondering about the origin, information, benefits of use, and the work status of the Chingari App. This App is similar to the TikTok application that allows users to record and share short videos with incredible filters and games.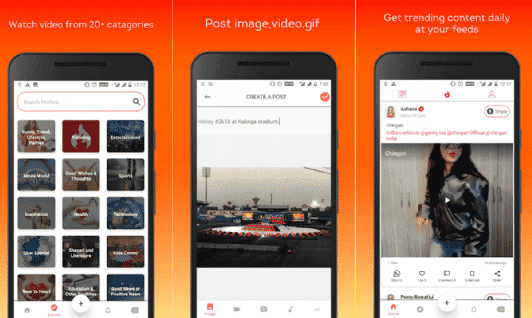 With 10,000+ creators, Chingari App gained a lot of popularity in India. The App is known for Modern India's move. The Chingari social media app is a step towards fulfilling the call of Prime Minister Narendra Modi for people to be "Vocal for Local". However the app is developed completely in India.
How to Use :
It provides the users to browse several short videos, download them, like them, share them etc. It also provides users to connect with people through the Direct Message feature. With 4.6 reviews in Google Play Store, the Chingari app received good response from the users in just a few days. The negative emotions of many Indian users against the TikTok app due to the "YouTube vs TikTok" battle also contributed to a positive response of Chingari App. The description of the application reveals that the new social media platform provides a new stage to create, encourage the talents, creative WhatsApp status, Videos, Audio clips, Gif stickers, and photos.
There are anti-China sentiments and social media comments against Chinese apps in India. As a result, a lot of native apps increased their users who migrated from Chinese apps. The Chingari app crossed 2.5 million downloads recently. However, the co-founders of the Chingari app differentiate themselves from developers. According to Google Play Store, Chingari app was introduced in November 2018.
ALSO SEE | Top 10 Non-Chinese Mobile Under 15000
The co-founders mentioned that Chingari was engineered, developed and updated for over 2 years with regular feedback from the users. This app is different from its competitors in the Google Play Store which are getting few downloads. The short video sharing app had 5.5 lakh downloads in 10 days. The reports say that the top 20 percent of its active users spend 1.5 hours daily on the app. The average daily usage time for its users is 7.5 minutes.
Chingari pays its content creator on the basis of his/her viral video similar to VMate. For every video that users upload, they get points per view so that they can redeem for money.
Availability :
Chingari is available in both Android and Apple iOS play stores. Once you install and open the app, it shows its Term of Service and Privacy Policy. If the users accept the policy, then they can use the app. Then choose a language among Hindi, Bengali, Tamil, Gujarati, Kannada, Marathi, Telugu, Odiya, English, Malayalam, and Punjabi. As soon as the users select the language, it takes them to the app which has three main screens such as Videos, News, and Game Zone. The functions of Chingari App are similar to TikTok.
However, the top banner ad to play quizzes on the app attracts the users. The video is similar to TikTok, Likee, and VMate. But it has some differences and functions. The users can swipe up or down for more videos but cannot swipe right for the profile. One needs to click on the user's picture at the bottom to see the profile, which shows the videos of the user in timeline design.
Features of Chingari App :
The Game Zone is an additional function to the Chingari app introduced for the users who play quiz and mini-games to earn points or Paytm cash. On the app, one can play Bingo and Quiz. Also choose a game from a long list of mini-games that includes popular games such as Cut the Rope, Sudoku, and more. The users should wait till the game loads in the Chingari app.
In Chingari app, the users can download of the WhatsApp Status with just a single tap on a condition. The condition says the the Status in WhatsApp can be downloaded once. To use the feature, tap on the arrow button towards the left and tap on WhatsApp Status to see all the status in the form of images and videos.
After the Indian government banned 59 Chinese mobile apps, millions of Indian users have started opting for Indian app alternatives. There is a wide popularity in this Chingari App after the ban of 59 Chinese apps over national security concerns. Chingari is an Indian alternative app against Chinese TikTok app. Chingari app impressed Indians. There are 1 lakh downloads and 2 million views per hour.
Chingari vs Tiktok
Chingari App is growing its popularity in India. It has 3 million downloads. The Chingari app was initiated by Nayak and Siddharth Gautam in Bengaluru. It was trending at the top on Google Play Store overtaking Mitron app, a TikTok alternate platform. This is because of the spread of Chingari app in Social media among Indians that they have an alternative to TikTok. So more downloads are recorded traffic beyond expectations on this app.
The investors show interest in this app as Chingari app sets new targets. Industrialist Anand Mahindra who never used TikTok app downloaded Chingari app and congratulated the founders. Chingari app engages a user to download, upload videos, and chat with friends. Also it engages the users to interact with new people, share content, and browse through the feed. A user can create Whatsapp status, audio clips, GIF stickers, and photos. The app is released in English, Hindi, Bangla, Gujarati, and Marathi. Also it is released in Kannada, Punjabi, Malayalam, Tamil and Telugu languages.
Reasons for Downfall of TikTok :
A video was uploaded by a YouTube influencer and allegedly carried instances of cyberbullying. A spat between two content creators for the video-sharing platforms YouTube and TikTok turned into a controversy after youtube deletes a video. After the video was removed, supporters of the YouTube influencer blasted the Google Play Store and reduced its ratings. TikTok rating on the Google Play Store has tumbled down from 4.6 to 2. Later TikTok Play Store rating dropped to 1. Later TikTok deleted the negative reviews and increased its ratings.
TikTok Google Play Store rating drops and the call for ban grows. TikTok Lite, a lighter version which works on lower-end smartphones has a massive drop in ratings(1.1 stars). India is currently the fastest-growing market for TikTok and has close to 200 million monthly active users.
There is an increase in violence from Tiktok. In response, TikTok has stated that they have been working to keep their platform safe on a priority basis. The Term of Service and Community Guidelines clearly outlines that violence is not acceptable. TikTok eliminates the content which risks the safety of others, promotes physical harm, and glorifies violence against women.
If the behavior of the users violates the guidelines, then their account will be suspended. TikTok found itself in another controversy after another creator uploaded a video which showed an apparent acid attack. TikTok India has been directed by the National Commission of Women to immediately remove a video which shows a man throwing a liquid on a woman. The woman's panel has also asked the Maharashtra police to take action against the account holder of the video as well.
Other Alternative :
Meanwhile, Mitron app is another Indian alternative to TikTok. Indians are also downloading this app as the Chinese apps are banned in the country. The app has also gained popularity due to the anti-China sentiments in the country. In the past two months, Mitron had over one crore downloads on Google Play store.
If you like this post, then leave a comment below this post. We are always here to help you in case of a problem which you are facing. Also, don't forget to share it with your friends. For the latest updates, bookmark our website and keep visiting us.
Connect with us on Facebook and Twitter. Thanks a lot for reading this article. Join our Telegram Channel for the latest tricks and offers.