Planning to buy the perfect flagship mobile..? Well, we are talking about Xiaomi Mi 6 this mobile isn't available to buy in India but you can buy this from Gearbest with a huge discount. The actual cost of Xiaomi Mi 6 is around 36,000 but you can buy that for little over 26,000 Rs. This is the perfect Diwali mobile deal, Indian Xiaomi is only providing maximum of 2k discount on Redmi note 4 & Xiaomi Mi 5. But from Gearbest you can get a Flat 10k discount on Xiaomi Mi 6 apart from this mobile you can also buy Xiaomi Mi 5C for 12,000 Rs where the actual cost of that mobile is 16,000 Rs. Here are the Xiaomi Mi 6 and Mi 5C Offers with Flat 10000 Rs off.
Buy Xiaomi Mi 6 Offer on Gearbest: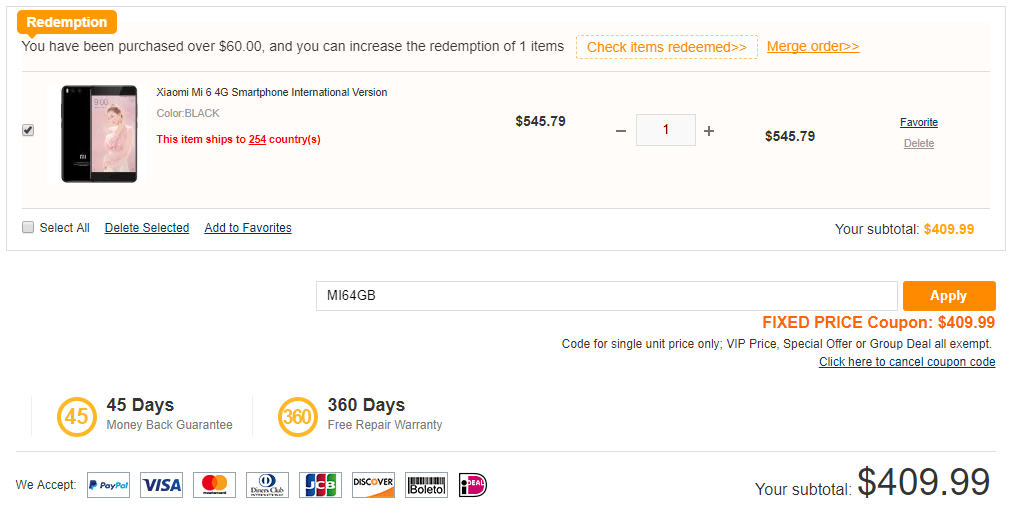 Till now Xiaomi only released one Flagship mobile in India which is Xiaomi Mi 5 but this mobile is an upgraded version of the older model. This is expected to be available in India at the end of October. It offers the same specifications like Oneplus 5 and it costs little over 26,000 Rs. Xiaomi Mi 6 comes with the dual camera on the back and it runs on latest Android OS. It is powered by Snapdragon 835 Octa Core 2.45GHz. Here are the detailed Xiaomi Mi 6 specifications
Specifications:
| Price | 26899 Rs |
| --- | --- |
| Display Size | 5.15 inch |
| Processor | Snapdragon 835 Octa Core 2.45GHz |
| RAM | 6 GB |
| Primary Camera | 12 MP + 12 MP |
| Front Camera | 8 MP |
| Memory | 64 GB |
| Battery | 4000 mAh |
| 4G VoLTE | YES |
| Android Version | 7.o |
| Comments | Best Discounted Xiaomi Mobile |
Xiaomi Mi 6 Offers
Xiaomi Mi 6 is only available to buy in Chine, so if you are looking forward to buying this mobile then you need to visit Gearbest site. This site delivers all type of products to India with Free shipping and no customs duties. Here is the detailed information on how to buy gearbest products in India, Xiaomi Mi 6 is launched with a price tag of 550$ but now it is available for 400$ this offer is only available in gearbest. They are promoting this product as the part of their Gearbest Super Bumper Harvest Sale.
| Price | 26899 Rs |
| --- | --- |
| Product Name | Xiaomi Mi 6 |
| Actual Price | 560$ |
| Offer Price | 410$ |
| Coupon Code | MI64GB |
| Link | Click Here |
Buy Xiaomi Mi 5C Offer on Gearbest

In case if you are looking forward to buying any budget mobile then we got it covered as well, presently you can get Flat 2000 Rs off on Redmi note 4. You can claim that offer from Mi Diwali sale offers, this offer will expire in next 2 days. Apart from this, you can buy a mobile which is a little bit upgraded version to Redmi note 4 and that is Xiaomi Mi 5C. This mobile comes with only 3GB of RAM but the other features such as camera, battery, Look and feel are better in this mobile compared to Xiaomi Mi 5C
Specifications:
| Price | 12499 Rs |
| --- | --- |
| Display Size | 5.15 inch |
| Processor | Pinecone V670 Octa Core 2.2GHz |
| RAM | 3 GB |
| Primary Camera | 12 MP |
| Front Camera | 8 MP |
| Memory | 64 GB |
| Battery | 4000 mAh |
| 4G VoLTE | YES |
| Android Version | 7.o |
| Comments | Best Discounted Xiaomi Mobile |
Xiaomi Mi 5C Offers
The actual cost of this mobile is 250$ but because gearbest anniversary sale you can claim this only for 195$. This comes with Free shipping all over India. Visit the below link to Buy Xiaomi Mi 5C
| Price | 12499 Rs |
| --- | --- |
| Product Name | Xiaomi Mi 5C |
| Actual Price | 250$ |
| Offer Price | 196$ |
| Coupon Code | MI5C64GB |
| Link | Click Here |