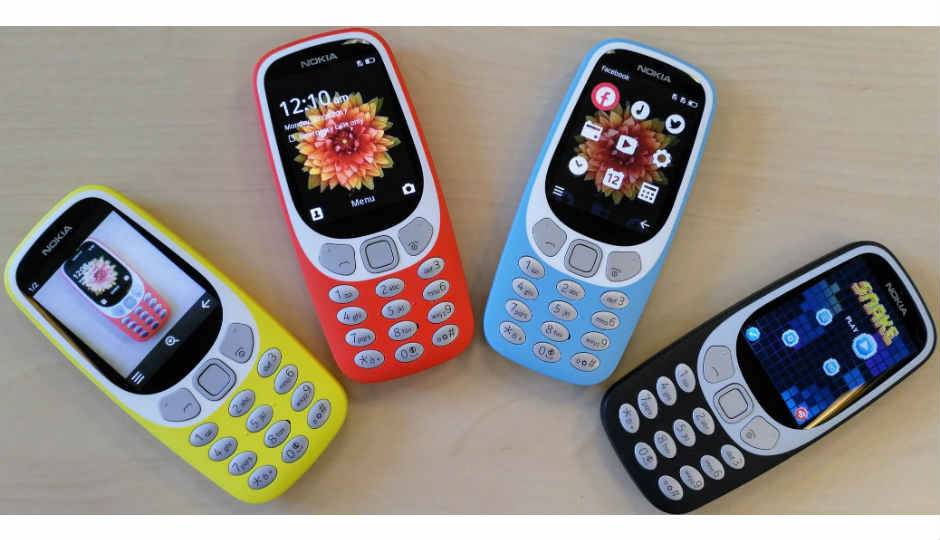 The well know mobile brand Nokia is trying everything to get back on the track. Last year they introduced Nokia 6 which is their first ever Android mobile and also launched new Nokia 3310 with color display and more. They are clearly aiming to take over the budget mobile market but the new Nokia 3310 wasn't that much great. So this time they are bringing an upgrade version by adding 4G LTE feature, this can be the game changer. As Nokia announced that the battery of New 3310 4G mobile set to last for a minimum of 12 Days. Here are the more details on Buy Nokia 3310 4G Mobile in India.
Nokia 3310 4G Mobile Specifications
| Price |  3999 |
| --- | --- |
| Display Size | 2.4-inch QVGA (240×320 pixels) colour display |
| Processor |  Qualcomm Snapdragon 600-series chipset |
| RAM |  YTD |
| Primary Camera |  2 MP |
| Front Camera |  NA |
| Memory |  512 MB |
| Battery |  1200 mAh |
| 4G VoLTE |  YES |
| Operating System | YunOS |
| Comments |  Everlasting mobile phone |
Nokia 3310 4G Mobile Price in India
There is no doubt that this mobile is best suitable for Indian market compared to all over the world, because by considering the fact that many Indian people aren't up to date with technology. So with this new Nokia 3310 4G Mobile, anyone can place any type of 4G sim to enjoy unlimited calls. Although this mobile comes with an internet feature it's not that much great for everyday browsing. Official Nokia 3310 4G mobile prices aren't revealed yet but there are our predictions
Nokia 3310 4G Mobile Price: 60$
Nokia 3310 4G Mobile Price in India: 3999 Rs
Buy Nokia 3310 4G Mobile
This mobile expected to release in February so it isn't available to buy just yet. This comes in two different colors and they are Fresh Blue and Deep Black. It is nothing but an upgrade to the Nokia 3310 which is a 2G variant launched in last year May. The surprising thing about Nokia 3310 4G mobile is it's OS because it's not running on Android but it's running the software which is similar to Android. This mobile operating system is YunOS this was built by China's Alibaba.
Buy Nokia 3310 4G Fresh Blue Color Mobile: Link is Coming Soon
Buy Nokia 3310 4G Fresh Deep Black Mobile: Link is Coming Soon
Nokia 3310 4G Mobile Release Date in India:
Unlike Nokia 6 you don't need to wait for months to buy this mobile, you can just count the days. Because Nokia 3310 4G mobile launch already scheduled in February but it's just the matter of time on when they are gonna launch in India. So just keep yourself updated by visiting our blog because we will update this article once we got Nokia 3310 4G release date in India
Nokia 3310 4G Mobile Release Date in India: End of February
Nokia 3310 4G Launch Date: February 2017
Buy Nokia 3310 4G on Amazon &  Flipkart
Nokia is gonna release this mobile on every online & offline store including their own sites. So you can just sit back and buy from anywhere you want, for the Nokia 3310 2017 version they first released in offline stores and they gave an option to buy from online stores i.e Amazon & Flipkart. But this time you can literally buy from anywhere you want.
Buy Nokia 3310 4G on Amazon: Link is coming soon
Buy Nokia 3310 4G on Flipkart: Link is coming soon