Buy Mi Band 2 Online in India from Banggood at 800 Rs Only: Tired of waiting for My band 2's to come in stock..? Well, we found the perfect alternative to buy these products. Now you can buy Mi band 2 at 800 Rs only where the actual Mi band 2 cost starts at 2499 Rs in India. To Buy Mi Band 2 you need to visit one foreign site named Banggood.com this site is presently offering Flat 50% coupon for Flipshope visitors. Simply use Flipshope coupon code at the checkout of Mi band 2 and get Flat 50% off. This product even comes with free shipping, so here are the complete details of Buy Mi Band 2 Online Banggood for 800 Rs.
Visit Banggood Product Page and use Flipshope Code to buy Mi band 2 for 800 Rs. This offer is exclusive to Flipshope users don't forget to choose your country as India
Mi Band 2 Features
Mi band 2 which is also known as fitness band, this is an upgraded version of previous Mi Band and now they added some awesome features. So with this Mi band 2 one can easily take care of health, it will give you sleep work out alerts. You can simply unlock and access your phone from Mi band 2. It's like your personal fitness assistant which can stay with you all day long. Here are some awesome Mi Band 2 features
More stats than steps with OLED Display
Calculates the spring in your step, it will Count every heartbeat
Sitting still for too long? and Get Sleep Alerts
Incoming call, message alerts, and Unlock Smartphone
20 Days Battery life and Bluetooth Enabled
How to buy Mi Band 2 Online Banggood for 800 Rs:
Mi band's have become so much popular right after their launch in India but now they aren't available to buy in India. To buy Mi band 2 you need to wait for them to be back in stock but from now on you can easily buy them from Banggood and use our coupon code (Flipshope) at the check out to get Flat 50% off. Here are the steps to buy Mi band 2 online banggood for 800 Rs.
Steps to Buy Mi Band 2 from Banggood:
First, you need to visit Mi band 2 Bandgood sale page
Login or Sign-up to make a new account, then add the product to cart
Then click on proceed to check out and choose Free Shipping
Fill the required address details and save that as default
Now enter the code Flipshope to claim Flat 50% off on Mi Band 2
Complete the payment and buy Mi band 2 for 800 Rs only
Mi band 2 Banggood Proof:
Presently official Mi band 2 are available only on few sites but they aren't available in India. So you must Visit Banggood official site to buy the product, if you have any doubts on banggood site or their payment methods then visit this article on how to buy banggood products in India. We recommend you to buy the product from banggood because they offer free shipping and you can use our code to claim Flat 50% off. Here is the Mi Band 2 Banggood proof of 800 Rs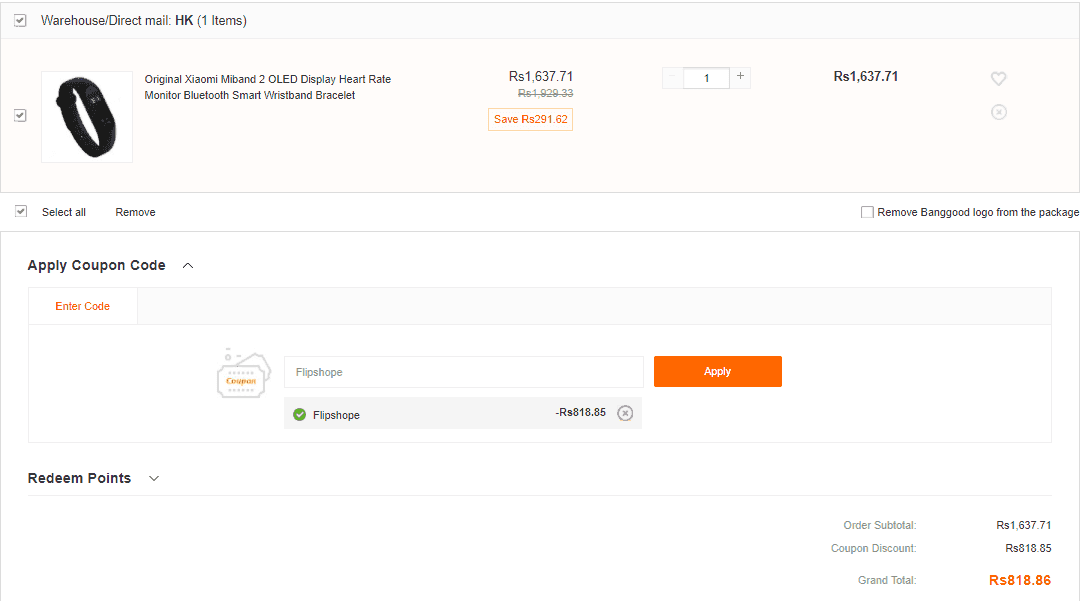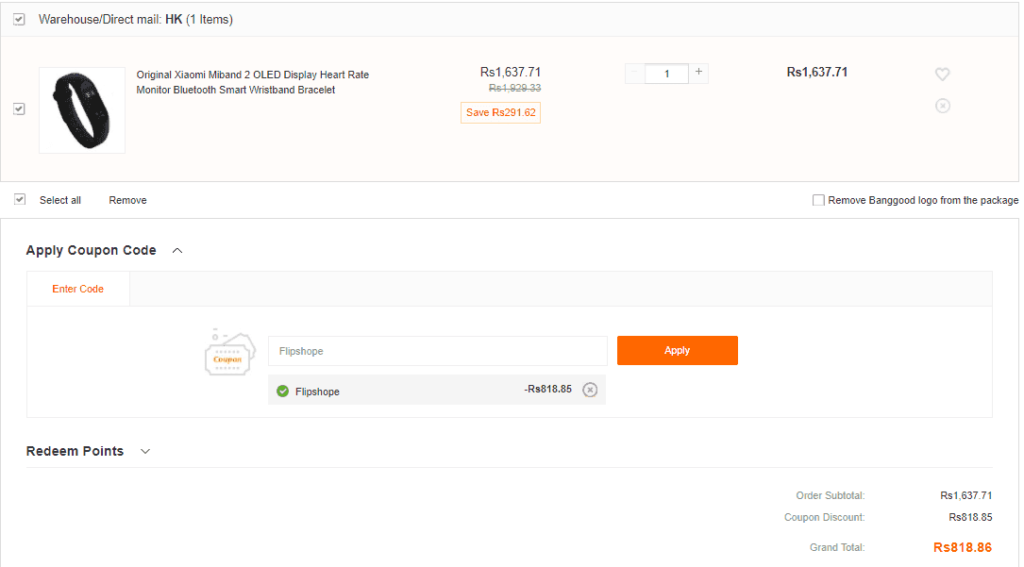 Buy Mi Band 2 Price in India
The price of Mi band 2 used to vary according to the season, but in Mi site, they kept the constant price of 2000 Rs. Where the same Mi band 2 is only available for 800 Rs in Banggood, that product even comes with international warranty and it holds 4.9-star rating our of 5 from 10000 users. So if you really wanna buy mi band 2 just go with Banggood. Here are the Mi band 2 price details in India
Mi Band 2 Price in Flipkart: 2499 Rs
Mi Band 2 Price in Amazon: 2499 Rs
Mi Brand 2 Price in Snapdeal: 2499 Rs
Mi Band 2 Price in Mi.com/in: 1999 Rs
Mi Band 2 Price in Banggood: 800 Rs (12.49$) RECOMMENDED
Buy Mi Band 2 Amazon Flipkart in India:
Mi band 2 isn't available in India right now but as an alternative, you can choose gearbest. If not you can simply wait for the products to be back in stock. So here we are providing Mi band 2 buying links of Flipkart and Amazon. The price of Mi band 2 starts at 1999 Rs and they might increase that to 2499 Rs.