Boat comes on number Fifth when we talk about top wearable brands in the world. The boat is an Indian brand and currently, it is No. One earwear brand in India. And now the brand is ready to rule the Smartwatch segment. Today we are going to talk about Boat Watch flash specifications. Boat Watch flash comes with many exciting features. Boat products come at an affordable and competitive price. In the era of fitness and health, smartwatches are trending as they help us to remain fit and help us to achieve our daily goals. Below we are sharing detailed Boat Watch Flash Specs, Boat Watch Flash price in India, and Launch Date.
Related: Boat Enigma Specifications | Another amazing Smartwatch by Boat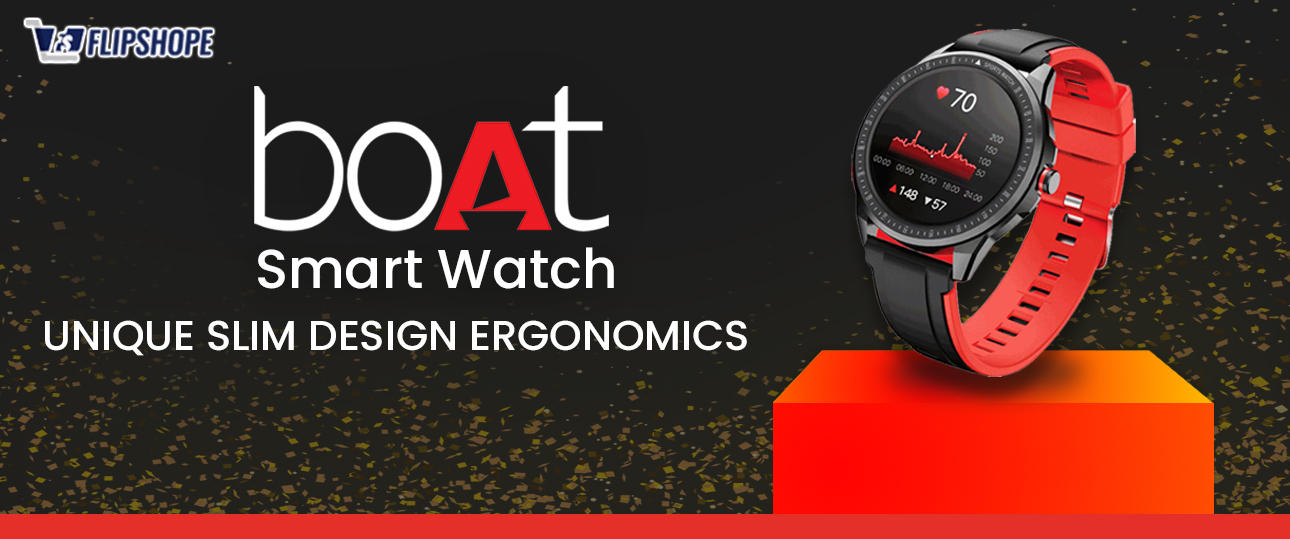 Boat Watch Flash Specifications
Boat watch Flash is loaded with many cool features and it gives us an amazing experience like many other boat products. this smartwatch is loaded with many features and also has many modes and it's also water-resistant. if you are dealing with any medical condition this watch might be useful for you. keep reading to know all the Boat Watch Flash Specs in Details.
Body
Starting Boat Watch Flash specifications with its body, the smartwatch comes in a round dial shape, and obviously, it is a touchscreen. The screen size is about 1.3 inches. You can also choose between stylish and attractive multiple Colors straps such as vivid red, active black, and electric blue. It has multiple watch faces and honestly, it gives a very unique and cool look.
Related: Top 5 Upcoming Smartwatches in India | arriving soon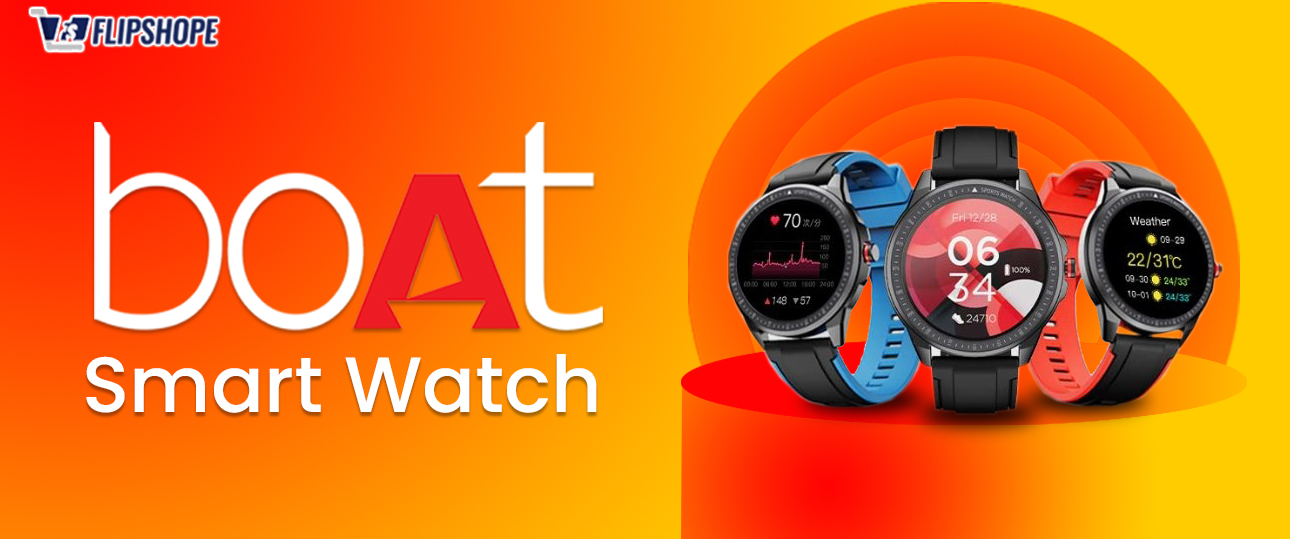 Protection
Boat Watch Flash Specs has many protection features. It has a sweat and dust protection feature with IP68. Hence you can do heavy workouts and even some simple exercises like jogging without worrying about sweats and dust affecting your watch.
With dust and sweats resistance, Boat watch flash specifications also have a water resistance feature up-to 30m with this feature you can swim while you are wearing this watch without worrying about it.
Till now we are feeling satisfied with this watch now let's know what it has to offer for fitness lovers.
Features for fitness
This watch is specially made for fitness freaks as it is equipped with many features related to fitness and health. Boat Watch Flash Specs has fitness features such as daily activity tracking that will tell you about your daily activity and hence you can improve every day with such analysis. This watch is loaded with 10 sports modes such as running, climbing, skipping, swimming, basketball, badminton, football, yoga, cycling and walking.
Hence it becomes a very useful watch for fitness lovers. It also gives hydration alerts and so you get reminders to be hydrated from time to time. We know the importance water has for us hence this feature is really good.
It is also loaded with many features related to health hence let's know about them below.
Related: Amazfit Pop Pro Smartwatch Specifications | 24×7 heart rate monitor and more
Health Meters
Other than fitness features, Boat Watch Flash Specs is also equipped with many health meters. this watch is also suitable for people who are looking for a watch loaded with health monitoring features. This watch is equipped with sleep monitoring, heart rate monitoring, blood oxygen level monitoring, and guided meditative breathing.
All these features will help you to remain healthy. With guided meditative breathing you can also practice meditation even if you are a beginner. It will help you to be at peace and that is something very necessary in this fast-pacing world.
Battery, controls, and alerts
The battery in this smartwatch is lithium polymer and Battery life is 7 Days. It has different music and camera controls. So, you can control it accordingly and with ease. Boat Watch Flash Specifications has notifications alerts features, so you never miss any important notifications related to you. It will give you message alerts, live forecast weather alerts, etc.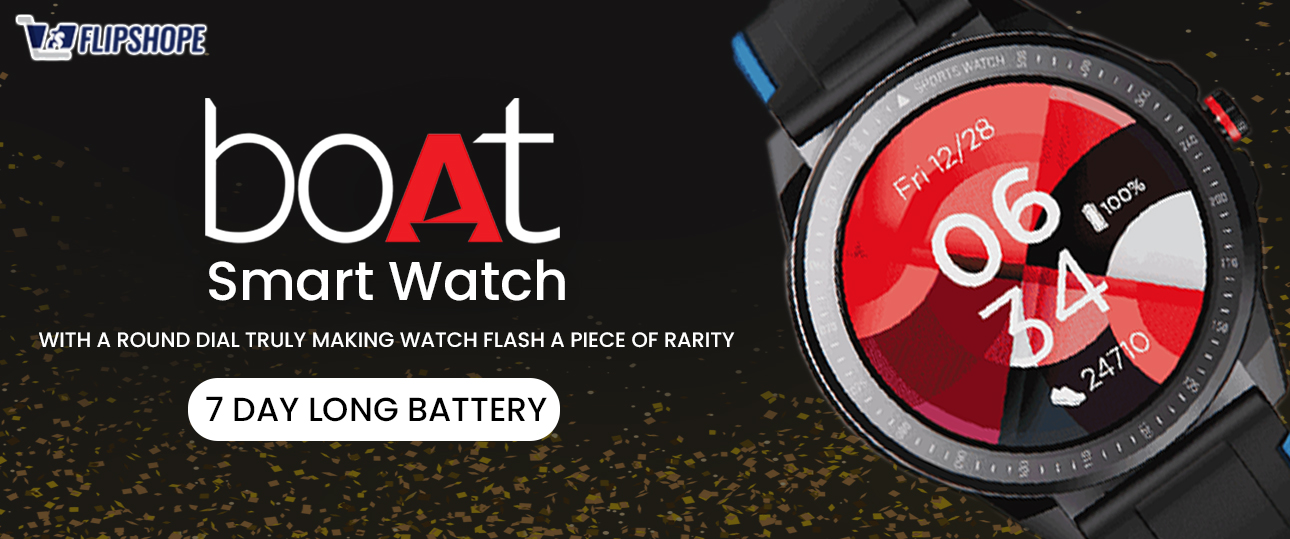 Boat Watch Flash Specs at a Glance
Comes in a round dial shape.
1.3 inches touch screen
Sweat dust resistance with IP68.
Water-resistance up-to 30m.
Features such as music control, notifications of messages and alarm clock, hydration, guided meditative breathing, blood oxygen level monitoring, heart rate monitoring, sleep monitor, calories counting, and Step counting.
Daily active tracker, live weather forecast, and up-to 10 sports modes.
Compatibility with Android and iOS.
Lithium polymer battery.
Battery lasts up to 7 days.
Sensors such as accelerometer, g sensor, optical heart rate sensor.
Related: Top 10 Wireless Earphones | Earphones under 1000Rs. in India
Boat Watch flash price in India and launch date
Coming to Boat Watch flash price in India, the watch has actually come with a very nominal price tag of 2,499Rs. so you can now get a beautiful feature-rich smartwatch on amazon you can already check complete details
This watch is on sale and it's a Limited time deal for around 1 Hour.
Conclusion
I have tried to present all the Boat Watch flash Specifications above. Reading all specs, we can say it has amazing specifications and honestly, we can't wait for its release. This product of boat is confirmed to arrive but the date is not confirmed yet. It will give tough competition to other watches for sure. Boat products are expected to come with many features and boats have always delivered such products.
So same is expected from Boat Watch flash as well. I hope this article helps you in knowing about the expected specs for this watch. Please recommend any details if you think we have missed this.
If you like this article (Boat Watch flash Specifications) then, please share your reviews with us and if you have any suggestions then also, please share them with us in the below comments.
Connect with us on Facebook and Twitter. Thanks a lot for reading this article. Join our Telegram Channel or you can download Flipshope extension for the latest tricks and offers. For any queries please Whatsapp us on 9999488008.