Apple's new iPhone SE makes a promising launch: Apple has released its new 4 inch iPhone model, iPhone SE after realizing the fast moving sale of its small sized flagship mobile 5S even after the giant sized iPhone 6, 6Plus, 6S and 6S Plus were introduced. iPhone SE is a phone for those who love the smaller size but the powers of a flagship phone. iPhone SE is a purpose-built device with its individuality and uniqueness. It is a small mobile like the 5S but with the powerful features of 6S.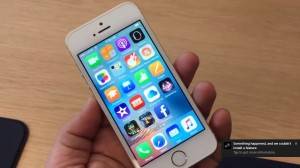 Apple's new iPhone SE makes a promising launch
Processor
iPhone SE uses the A9 processor similar to 6S and 6S Plus. A9 is a 64-bit processor with its motion coprocessor M9 to record steps and measure activity. The A9 processor opens apps very quickly and makes games graphics look good. Playing games is as fun as in the big screened iPhone 6S and 6S Plus. The 'Hey Siri' auto voice recognition feature is also enabled in the iPhone SE. This means, you can ask any questions with the two magical words and the phone will wake up and answer it for you.
What does 'SE' in iPhone SE stand for?
The rear camera is of 12 MP, the same as in iPhone 6S. The rear camera lens is designed in such a way that it doesn't have a bump at the back panel. Although iPhone SE doesn't support 3D Touch, it can shoot Live Photos really well. It collects frames and audios to make the photo sequence into a movie like a sequence. For panoramic shots, iPhone SE can shoot pictures equivalent to 63 MP shots.
The FaceTime front camera is not as good as in iPhone 6S. It is just 1.2 MP and includes HDR only for photos and not for video recording. It uses Retina Flash, which changes the color the screen flashes according to the ambient light.
Battery Life
iPhone SE scores well in its battery life. The silicon chips used, the A9 processor and the latest iOS contribute to increasing the battery life as long as the iPhone 6.
Other features
iPhone SE also includes
NFC Chip to use Apple Pay, the mobile payment facility of Apple
Connectivity options include 802.11ac Wi-Fi, Bluetooth 4.2, and VoLTE
The new mobile will be available in Gold, Silver, Space Grey and Rose Gold colors. There may be two variants of iPhone SE in terms of inbuilt storage – 16 GB and 64 GB. Regarding the price of it, analyst Ming-Chi Kuo at KGI Securities has claimed that it would be reasonably priced between Rs. 27,500 and 34,500. Foxconn and Wistron will serve as the suppliers for I-phone SE. The sale starts from 30th March for which pre-registration starts on 24th March.
Verdict
iPhone SE looks elegant in its design which makes it compelling to buy. The mobile is small yet powerful with all the technical specifications present in iPhone 6.
Apple's new iPhone SE makes a promising launch