Apple finally launched the new version of its iPad, called the iPad Pro at its ongoing event in San Francisco. The new iPad Pro is bigger than all other previous variants of iPad. It features a 12.9-inch display and it's the biggest screen on an iOS device and more powerful than any iOS device.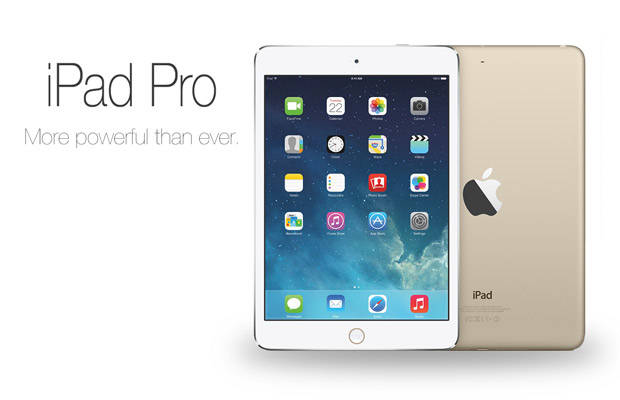 "Why make a bigger display? It's a magical piece of glass that lets you touch the software. It can do things that a smartphone can't do, because it doesn't have to fit in your pocket, and it can do things a laptop can't do because you can hold it all day," he added further.
Width of the iPad Pro is the same as the height of the iPad Air, so you can run iPad Air apps with additional space to the side. It is powered by A9X 3rd-generation 64-bit chip, which is the 1.8x faster than the A8X in the Air 2. "Desktop-class performance," which Apple says every year.
The device is equipped with four speakers. "We thought this display deserves a great sound system." Four-speaker audio system that balances stereo and frequencies depending on how you hold it,"said Schiller.
At the launch event of iPad Pro, Philip W. Schiller, senior vice president of worldwide marketing at Apple Inc. said, "This is the iPad Pro. It's the most capable and powerful iPad we've ever created. It is chock full of amazing technologies and innovations."
On Wednesday, Apple launched the most awaited iPad Pro, which is the biggest iOS device till now, even larger than iPad Air 2. The new iPad Pro comes with a 12.9 inches display with 2732×2048 pixels – 5.6 million pixels.
The device was launched by Phil Schiller, senior vice president of worldwide marketing at Apple Inc., who said that it is more pixels than those on a 15″ MacBook Pro. He said, "Watching movies on it is incredible, as it offer 2X graphics performance." The new A9x chip powers the iPad Pro which is 1.8x faster than the A8x processor. and he calls it desktop-class CPU.
The iPad Pro comes with a full-size software keyboard, four-speaker and it is only 6.9 mm thin. It will be available in three color variants – Space Gray, Silver and Gold along with three storage variants 32GB ($799), 128GB WiFi ($949) and 128GB WiFi + Cellular ($1079).
Schiller said that, "The iPad Pro is powered by a new "desktop class" A9X chip which makes its CPU faster in tasks than 80 percent of the portable PCs that shipped in the last quarter, and 90 percent faster at graphics tasks." He also highlighted its power by showing an image of AutoCAD 360 running on the iPad Pro. Apple claims that the battery of new iPad Pro will last Up to 10 hours.
Along with the iPad Pro, Apple also launched the Apple Pencil, a stylus for the iPad Pro. The Apple Pencil has sensors for force, angle, position, and a faster digitiser. Apple has also updated iOS apps like Mail and Notes to support the Apple Pencil.
In short one can easily see that Apple copied Microsoft. It tried to launch iPad like Microsoft Surface.
Author – Stavan Pandya.