Amazon's Unethical Business Practices: Amazon Prices the Products Higher Than the MRP In the history of e-commerce devious practices by online sites is very prominent. It wasn't long back when Flipkart, one of the most popular sites had inflated the MRP of a product and discounted it.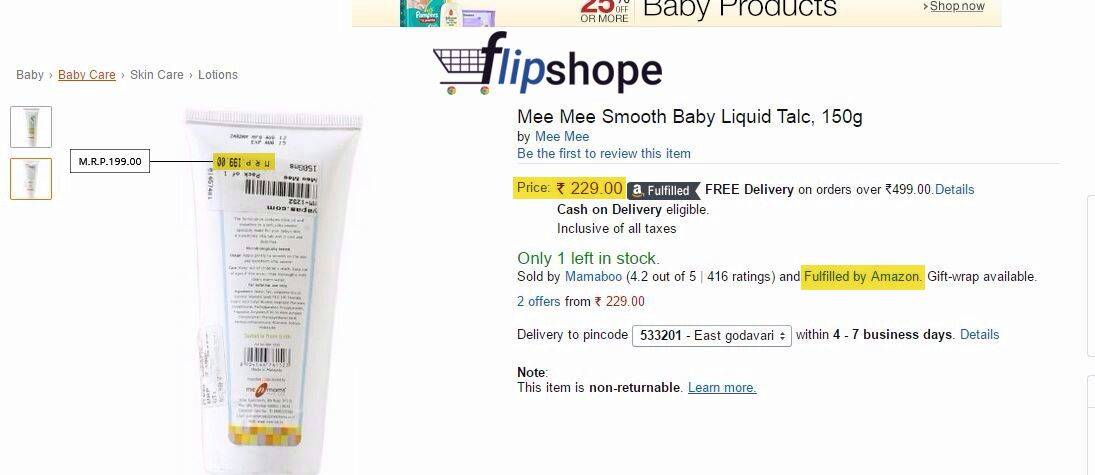 It was all over the news and Flipkart had experienced a lot of media infuriation. A very similar instance can now be seen with Amazon. The "Mee Mee Smooth Baby Liquid Talc" is priced at Rs. 299 /- but what's shocking is, that the MRP of the product is Rs. 199.80/- . Flipshope, the free chrome extension, noticed this first. It is miserable to know that these shopping sites make false claims about their discounts and fair prices and cheat their customers. If this continues, people would lose trust in online shopping. However, the only way people can discern about the genuine deals is by having Flipshope on their devices. It is very useful to cease yourself from being cheated by such deals and websites.
Interestingly they are charging 29.98 rs as Delivery fee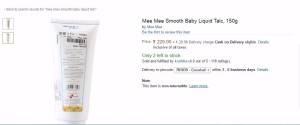 Amazon's Unethical Business Practices
About Flipshope– Flipshope is a startup based out in IIT kgp Bringing the most genuine deals and informing about deceitful practices. Flipshope, the free chrome extension works on features It's visual search feature scans the MRP of the product and compares it with the given price. It is an excellent feature, which makes the buyers alert of the prices and prevents swindle. Also it provides feautures like auto buy in flash sales, price comparisons, price graphs and recently it has started working on incidents like these.