Amazon has officially announced that it will be serving people with liquor delivery in India. However, it started in America a few years back. Amazon has been expanding its business in every field all over the world. Here we are going to share complete information about Amazon Liquor Delivery and how to order Alcohol online from Amazon.
The ongoing coronavirus pandemic changed a lot of things. People have been working from home and students to online classes. The COVID-19 crisis even forced the government to allow delivery of alcohol to doors. So taking advantage of this, e-commerce giant Amazon is now gearing up to step into the alcohol delivery field. Also, Zomato Liquor Delivery is in the field.
Amazon is the one-stop shop for all of our needs. One can buy clothes, books, accessories, toys, tiny houses, and food on Amazon. One can order wine from Amazon and get it delivered directly to the house.
People who are addicted to Alcohol have been searching illegal ways to find wine. Some are storing in their homes and enjoying the wine whenever required. It is very convenient to deliver wine.
Amazon Prime makes shoppers' lives easier. Amazon announced that Amazon Prime Now was the fastest delivery service.
ALSO READ | How to order Alcohal from Zomato
How order Alcohol online from Amazon (Home Delivery)

In USA, Amazon is using Prime Now for its delivery. So with Prime Now, the things are quicker than regular 2-day Prime. One can get items delivered to their homes in under 2 hours if they use Prime Now.
Since the introduction of liquor delivery, Amazon has been adding more regions to Prime Now cities. However, every city does not have this delivery option for offering beer and wine. Only chosen cities have access to this delivery option where wine and beer are delivered from neighborhood liquor and grocery stores. So, one can stock their entire liquor cabinet for the weekend using Amazon.
ALSO READ | How to order groceries online from Jiomart
Amazon buys and stores more products, sells more alcohol, and serves large regions. Also Amazon does this without stock, merchandise, staff stores etc. It is an ultra lean and an ultra scalable liquor model. Hence they can sell product at lower margin and offer consumers home/office delivery at very low cost. However in India, there was no permission for the delivery of wine.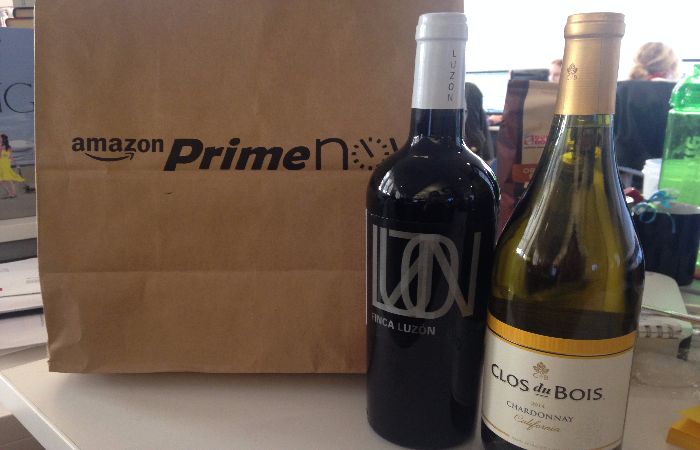 Amazon Liquor Delivery in India
But now, during the ongoing COVID-19 pandemic the Government permits for Liquor delivery in India. Also the wine addicts are eager for liquor. If the delivery is a hit, then the delivery will spread to all the major cities in India.
Amazon is positioning itself to make a huge play in local delivery and this includes beverage alcohol.
Amazon also gets permission to deliver Beer, Wines, Alcohol and Spirits in India. Ever since the lockdown was announced, alcohol consumption took a big lead in the market. Also there is a drastic downfall in the state revenues which link to alcohol sale.
The stores continue to stay shut even today and for people eager to consume alcohol in the times of novel coronavirus. However, Amazon India got clearance to deliver alcohol in West Bengal, according to a report by Reuters.
ALSO READ | How to order groceries on Jiomart using Whatsapp
Reuters has a document that signals the e-commerce giant Amazon entry in delivering alcohol to people's homes. Amazon has signed a 'Memorandum of Understanding' with the state of West Bengal. This will set free the liquor addicts.
West Bengal State Beverages Corporation controls on line liquor trade within the state. Further this corp said Amazon and a few other companies are eligible for registration with authorities. West Bengal government joined hands with Amazon India and BigBasket to sign a Memorandum of Understanding.
West Bengal stands fourth among the most populated states in India. The state's population is over 90 million people. Based on the population, the e-commerce giant Amazon will deliver in millions in West Bengal.
Amazon is one of the famous e-trade systems in India. The company has a great ability in India. It is also ready to invest 6.5 billion dollars in India.
Other Liquor serving Platforms
In addition to Amazon, Swiggy and Zomato have also been delivering alcohol in some parts of the country. BigBasket also delivers liquor in West Bengal state of India.