INSTALL NOW:
Download the Latest
Flipshope Extension
from here. This is temporary we will be back with the main one very shortly.
Airtel 3999 Rs recharge plan: Tired of monthly recharge plans..? In these days it's kind of tough to recharge the mobile phone, I am not talking about the recharge process. First, we will check the offers if we find any offer is worth recharging then we will complete the process. But all recharge plans change on monthly basis, so you just can't stick to one recharge plan for an entire year. So to solve this problem Airtel came up with an awesome offer which is called Airtel 3999 Rs Recharge plan. From this offer, you can get unlimited voice calls and 300 GB of 4G Data for 360 Days. Apart from this Airtel also introduced some other plans, they are Airtel 999 Rs Recharge Plan and Airtel 1999 Rs Recharge Plan. We are giving each and every detail about these Airtel new recharge plans. Airtel recently launched a smartphone with an effective price of 1399 Rs, check out Airtel 1399 Rs Smartphone with 4G VoLTE
Airtel 3999 Rs Recharge Plan
On this offer, the user will get unlimited local and STD calls for 360 days which is just a shy of a year. This plan is available to all Airtel Prepaid users and it will work even on Roaming. The good thing about Airtel 3999 Rs recharge plan is you will get 300 GB Data which you can use without any limits. Airtel 300 GB Data doesn't have any monthly or daily restrictions, you can use as much as you want but the Data will only expire after 360 Days.
Also Read: How to Transfer Internet Data on Airtel
How to Recharge Airtel 3999 Rs Plan
Simply visit Airtel.in official site and choose Prepaid Mobile Recharge
Type your Airtel mobile number to check the available plans
Then check the combo plans you will find Airtel 3999 Rs plan
Just click on Airtel 3999 Rs Recharge Plan
Complete the payment to activate Airtel 3999 Rs recharge plan
Airtel 3999 Rs Recharge Plan Detailed Breakdown
Once you Activate Airtel 3999 Rs recharge plan it will run for the whole year, you can't change this plan in the middle. Although you can recharge any other plan this will run alongside. In case if you are planning to port from Airtel network to any other network then your plan will expire right away and you won't get any refund as well. From this recharge, you are getting 300 GB Data for 360 Days. Which means roughly you are getting a little over 833 MB per day. If you break down the pricing where it will cost 4k Rs for 360 days it will actually cost you 11Rs per day. This is a pretty good deal rather than worrying about data and another monthly recharge offer you can just do the one time recharge for one year.
How To Increase Airtel Net Speed 2G 3G 4G and Modem Devices
Airtel 3999 Rs Plan vs 1999 Rs Plan vs 999 Rs Plan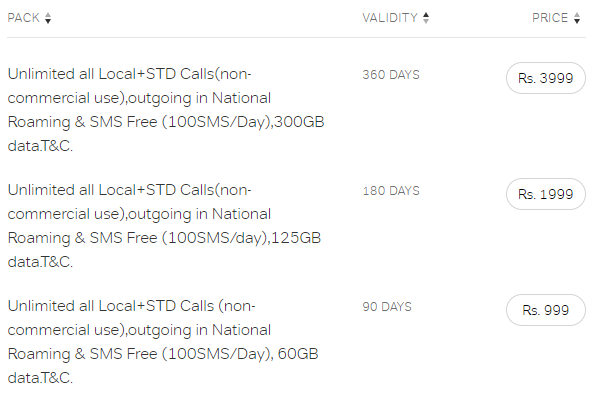 As mentioned above Airtel actually launched 3 plans, this is the first time that they have introduced plans above 1000 Rs worth. All these plans offer unlimited voice calls but with different data and different expiry dates. Here is the detailed information about airtel latest plans
| Details | Airtel 3999 Rs Plan | Airtel 1999 Rs Plan | Airtel 999 Rs Plan |
| --- | --- | --- | --- |
| Price |  3999 Rs |  1999 Rs |  999 Rs |
| Unlimited Calling |  All Local + STD Calls |  All Local + STD Calls |  All Local + STD Calls |
| Data Limit |  300 GB |  125 GB |  60 GB |
| Validity |  360 Days |  180 Days |  90 Days |
| Free Roaming & SMS |  Yes & 100 Per Day |   Yes & 100 Per Day |   Yes & 100 Per Day |
Airtel 3999 Rs recharge plan