So did you pre-ordered Apple iPhone 7 or thinking to buy Apple iPhone 7 or iPhone 7 plus..? then you might have to read this, now you can get iPhone 7 for very cheap rate probably the price equal to iPhone 5s. Here are the Airtel 19990 Rs iPhone 7 Offer details, where airtel is offering iPhone 7 at 19990 INR and iPhone 7 plus at 30792. These rates are for 32GB variant but still the better deal to go for than any other mobile in India. Here is how you can get Airtel 19990 rs iPhone 7 Offer and 30792 iPhone 7 Plus.
Airtel 19990 Rs iPhone 7 Offer Details:
Let me explain you what else you can get in this offer, this is only available in two places so make sure you are in that place. Airtel 19990 Rs iPhone 7 offer available places are Noida and Karnataka. It may expand to Bombay and Hyderabad but we aren't sure. Here are the few things which you can get from airtel 19990 Rs iPhone 7
Free Local and STD calls, unlimited Calls to any network
Free SMS to any other network in India
No Roaming charges, you can go to any place and enjoy unlimited calls
Free Data plans like (5GB, 10GB or 15GB, as per the plan you choose)
There are apple iphone 7 postpaid plan offer details
Airtel iPhone 7 and iPhone 7 Plus Offer which is iPhone for Life
This offer is only available for airtel users, if you aren't an airtel user don't worry you can still get this plan. This airtel iphone 7 offer is applicable for all new and existing airtel users on those two places which are karnataka and noida. In this iPhone for life plan user must be subscribed to airtel for one year to avail 19990 rs iPhone 7. Here is how to get airtel 19990 iPhone 7 offer with all the details and terms and conditions.
How To Get Airtel 19990 Rs iPhone 7 Offer
Any new or old airtel user is eligible for this offer, so in this 19990 rs iphone 7 offer user need to pay the amount at first so after one year balloon amount will be detected from their bank account. This balloon amount is divided into 3 categories so you can choose any type of plan which you like.
Steps to get airtel 19990 rs iPhone 7 offer
User must subscribe iPhone for life plan
Next he must pay the 19990 rs to get the iPhone 7
Remaining amount will be paid by Bajaj Private Limited
After that he will be moved to one year postpaid plan, where he can choose any plan
At the end of one year user can shift to new network or he can upgrade
During this one year airtel 19990 rs iphone 7 offer period, customers will not be allowed to port to another or different network, switch to non-'iPhone for Life' plans will lead to terminate the services, or they will transfer the ownership to someone by removing your 19990 iPhone 7 offer. However, customers have the option to foreclose the loan from Bajaj Finance by paying the charges that the company levies.
Airtel 19990 rs iPhone 7 Offer Balloon Payment Details:
After the completion of one year airtel iPhone 7 plan, the users will have two options: they can upgrade to the next version of the iPhone or they can buy the handset they are using by paying the balloon payment. Following are the down payment options as well as the corresponding balloon payments under this plan.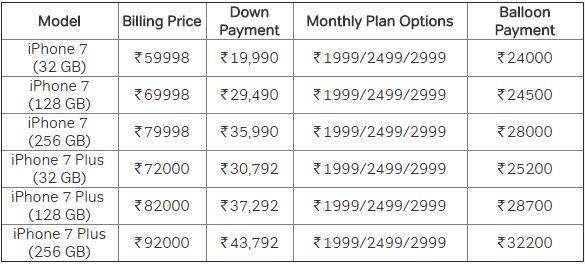 In case if a person didn't visit the airtel store to submit his iphone or to upgrade his plan bajaj will automatically take the balloon payment from the user bank account. So if you agreed to stay with airtel you must extend the subscription plan to another year else you will end up paying the balloon payment.
Airtel iPhone 7 Offer Plans, Prepaid Plans and Postpaid Plans
In order to upgrade or return the airtel iPhone 7 offer or airtel 7 Plus offer, users have to visit nearby Airtel store within 30 days of the completion. Users can then also decide to go for another postpaid plan; if they do not state which postpaid plan they wish to subscribe to, Airtel will continue with their existing plan, but at a lower rate. According to Airtel's website, the Rs. 1,999 plan would then cost Rs. 1,199, the Rs 2,499 plan would go down to Rs 1,599, and the charges for the Rs 2,999 plan will become Rs 1,999 per month.

Related Posts: