Airtel 1399 Rs Smartphone with 4G VoLTE: As mobile brands are fighting to release Bezel-less phones these telecom networks are fighting for best budget mobiles. Jio recently announced their feature phone for an effective cost of Zero Rs, that comes with the basic feature but that can support internet connection and you can also make unlimited calls to any network. Now Airtel just launched a mobile with a price tag of 1399 Rs Only. This new Airtel 1399 Rs Smartphone comes with a 4-inch touchscreen display and runs on Android OS. Unlike Jio Phone this offers inbuilt android app and you can download any app from Play store. In one word Airtel 1399 Rs Smartphone is a Basic android phone. Here we are giving more details on Airtel 1399 Rs Smartphone with 4G VoLTE and more features.
How To Get Jio Broadband Connection in 5 Simple Steps
Airtel 1399 Rs Smartphone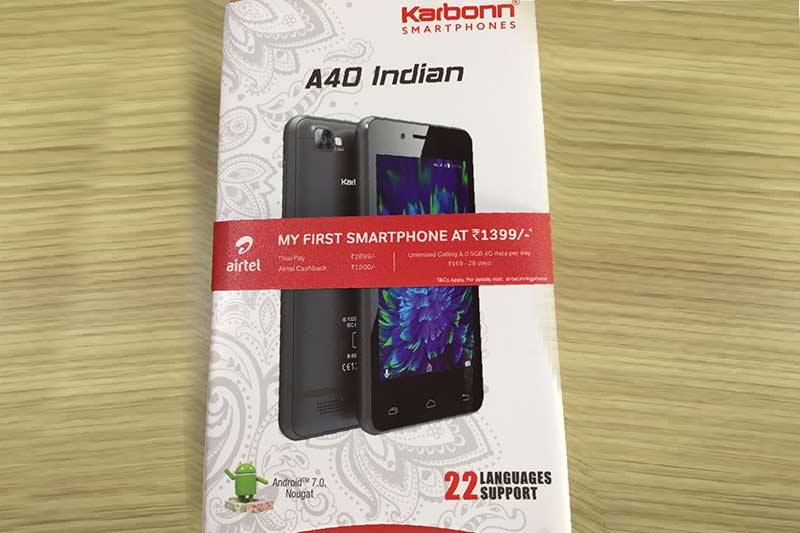 Now we can safely sale that this will be the cheapest Smartphone in the market right now. Presently you can only buy touch screen android mobile at a cost of more than 2500 but Airtel is now offering Karbon A40 for 1399 Rs only. To release Airtel 1399 Rs smartphone they have partnered with Karbonn. This mobile offers 4-inch touchscreen display with the basic smartphone features such as Front and Back Camera. It also offers 1GB of RAM and 16GB of Storage, the main feature of this mobile is 4G VoLTE. Which means you can also use jio sim or any other 4G sim to enjoy unlimited internet and voice calls. These are the complete Airtel 1399 Rs Smartphone Specifications
Airtel 1399 Rs Smartphone Specifications:
| Price | 1399 INR |
| --- | --- |
| Display Size | 4 inch |
| Processor | 1.3 GHz processor |
| RAM | 1 GB |
| Main Camera | 2 MP |
| Front Camera | 0.3 MP |
| Memory | 8 GB |
| Battery | 1400 mAh |
| 4G VoLTE | YES |
| Android Version | Android 6.0 |
| Comments | Only smartphone with 4G VoLTE for 1399 rs |
Airtel 1399 Rs Smartphone actual name is Karbonn A40, they are just releasing the same model with Airtel Tag. Just to be clear the actual cost of Karbonn A40 is 3499 Rs. But Airtel is selling this mobile for 2899 Rs. Just like Jio feature phone first user need to pay 2899 Rs to buy Airtel Karbonn A40 mobile. In the next 2 years of time, you will get a refund of 1500 Rs which makes the Airtel phone effective cost is 1399 Rs. This is the complete breakdown of Airtel 1399 Rs Mobile
Airtel 1399 Rs Mobile Pricing Breakdown:
You need to Pay 2899 Rs to buy Airtel Smartphone.
After that, you need to recharge the mobile with 169 Rs Monthly Pack
You must recharge the mobile for 18 straight months
Then you will receive a Refund of 500 Rs in first 18 Months
Again you will receive a Refund of 1000 Rs in 36 Months
This makes the phone actual effective cost is 1399 Rs
If you do not wish to opt for the Rs 169 bundled plan, you can get recharges of any value. However, to claim the cash refund benefit, recharges worth Rs 3000 must be done within the first 18 months (to claim the first refund installment of Rs 500) and another Rs 3000 over the next 18 months (to claim the second refund installment of Rs 1000).
Diwali Television Offers 2017 from Every Online Shopping Site
Airtel 1399 Rs Smartphone Karbonn A40 Release Date:
Airtel announced this news on October 11th, but till now they haven't confirmed the release date of this mobile and still it is unclear on where to buy Airtel 1399 Rs Smartphone. Airtel announced that this is the first of their several partnerships, they are planning to release more products like this.
Airtel Karbonn A40 Price: 2899 Rs or 1399 Rs (Effective Price After 3 Years)
Airtel 1399 Rs smartphone release Date: November 2017
Airtel 1399 Rs smartphone launch Date: 11th October 2017
For this price, it can be affordable for everyone but is it worth buying..? Because user need to pay 2899 Rs in the beginning and you will receive the 1500 Rs refund in next 3 years. To get the refund you must recharge the mobile with the worth of 3000 Rs in first 18 months. So what do you think..? Is it worth buying this amount? Let us know your opinion in the comment section below.
Airtel 1399 Rs Smartphone with 4G VoLTE