Acer Predator Helios 300 is a Gaming-focused brand owned by Acer. Acer launched the line of computers hardware and gaming computer in 2008. Earlier named as Acer Aspire Predator, which was later renamed as Acer Predator. One of the best models launched by Acer is Acer Predator Helios 300 Core i7 10th Gen – (16 GB/1 TB SSD/Windows 10 Home/6 GB Graphics/NVIDIA GeForce RTX 3060).
The model number is Ph315-53-72E9, and the part number is NH.QA4SI.001. It is one of the best Gaming Laptops. The model is well known for its high performance. The power supply 230 W AC Adapter, there are 4 battery cells. MS Word is not provided on this laptop.
FLIPKART DAILY TRIVIA QUIZ | WIN ASSURED PRIZE EVERY DAY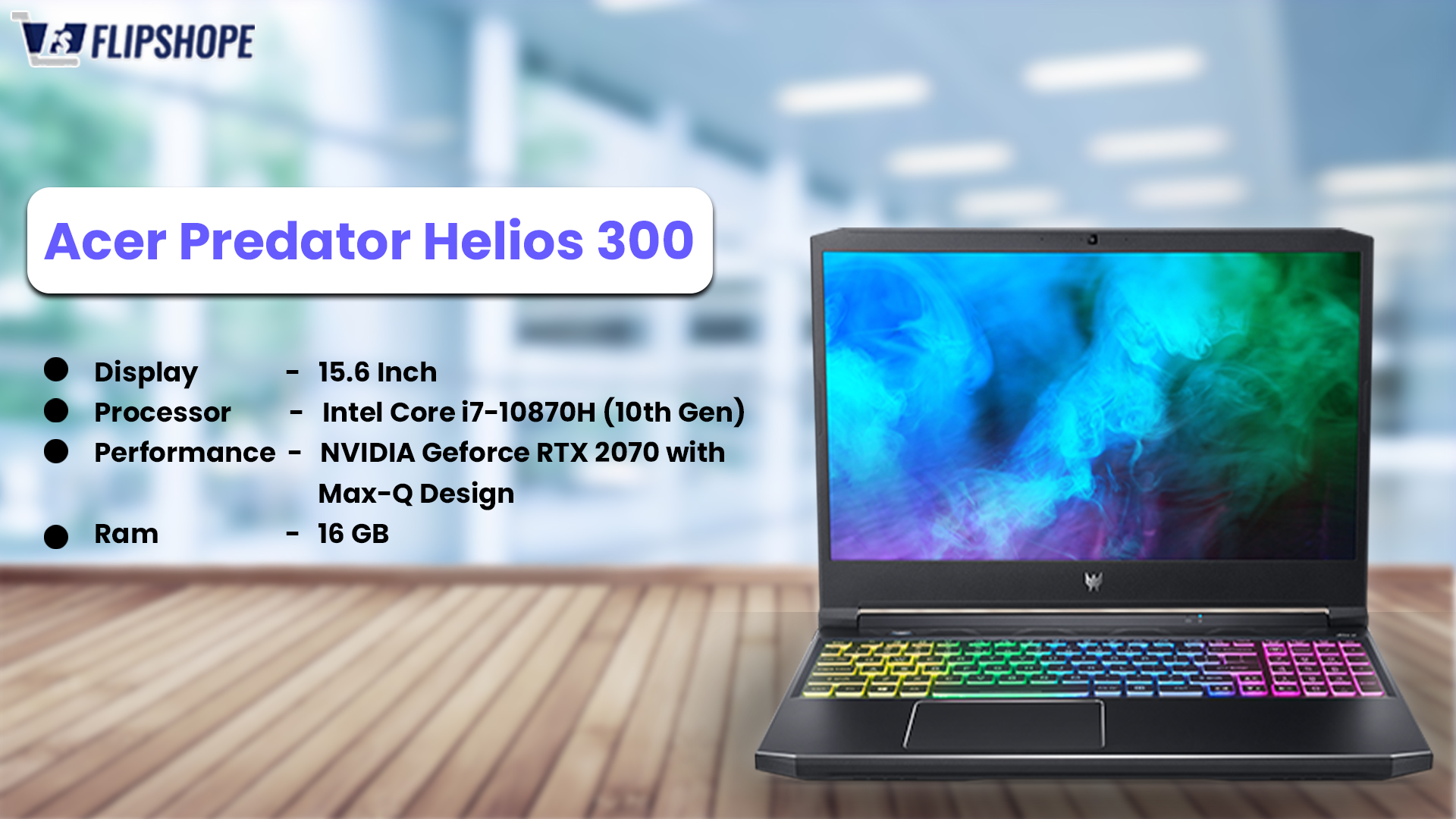 SPECIFICATIONS:
| | |
| --- | --- |
| Display | 15.6 Inch |
| Processor | Intel Core i7-10870H (10th Gen) |
| Performance | NVIDIA Geforce RTX 2070 with Max-Q Design |
| Ram | 16 GB |
| Battery | Li-Ion |
| Pointing Device | Touchpad with Multi-Touch Gestures Enabled |
Detailed Specification Of Acer Predator Helios 300 Core i7 10th Gen – (16 GB/1 TB SSD/Windows 10 Home/6 GB Graphics/NVIDIA GeForce RTX 3060)
Flipkart Upcoming Sale | Get your desired Product at great discount up to 90% off
1. Design
Acer Predator Helios 300 comes with a display of 39.6cm, which is 15.6 in black colour weighs 2.3 kg. The gaming laptop is equipped with 6 GB of NVIDIA GeForce RTX 2060, and the users can enjoy an enhanced gaming experience;
it lets you enjoy gaming performance in ultra-high quality. The CPU Performance comes with a 10th Gen Intel Core i7 processor with 16 GB of DDR4 2666 RAM, which can also be expanded to up to 32 GB to multitask easily.
2. Visuals–
The visual experience is flawless and impeccable because the refresh rate is 144 Hz and an overdrive response of 3 ms. The screen resolution is 1920 X 1080 Pixel. There is no touch screen included.
3. Screens
There are multiple screens with HDMI 2.0, and the DisplayPort 1.4 allows you to connect two more displays with this laptop. You can have 3 displays altogether within this laptop, affecting your gaming experience for the best. The screen type is a Full HD LED Backlit Comfy View TFT LCD with 300 nits Brightness.
4. Port and slot features-
The Acer Predator Helios 300 provides the in-built Mic along with two USBs 3.2 (1st Gen) and one USB 3.2, which is 2nd Gen with the power charging port and one USB 3.2 Type C, which is 2nd Gen, there is one mini display port provided, and an HDMI port is also included.
The best quality about the Acer Predator Helios 300 is that it gives you fast loading and gaming. It has a 256 GB SSD, uses NVMe technology in the Raid 0 configuration, and makes it easy for you to load your games at a faster speed.
The laptop furnishes the 4th Gen AeroBlade 3D Technology, which gives you the key to cool your system down effectively. The heat management is awesome.
5. Keypad-
The keyboard is customized with the Predator typeface and two integral keys, namely PredatorSense and Turbo. The keycaps are shaped in a concave shape, and you can see through them, making WASD very easy for you. The Fine Tip RGB Backlit Keyboard with an independent standard numeric keypad.
The pointer device is the multi-gesture touchpad. The software included PredatorSense, Acer Product Registration, Acer Care Centre, Acer Collection, Quick access. We provide you with the 59 WHr Li-ion Battery.
The feature of Killer Control Centre gives you the chance to handle web issues so that your gaming experience is flawless. The killer DoubleShot Pro acts as a weapon against internet worries.
6. Audio-
The audio provided by the Acer Predator Helios 300 is built specifically to enhance your aural experience with the Waves MaxxAudio; along with this, we provide you with Waves Nx gives you the chance to get an immersive 3D audio experience for you to enjoy in-depth surrounded with the best sound effects. Sound properties include DTS X: Ultra Audio which features an optimised bass,
and the protection of the speaker is up to six custom content modes by the smart amplifier. Acer Predator Helios 300 provides a wider frequency range and immersive audio rendering over headphones and includes internal speakers with sound enhanced by Acer Purified Voice Technology.
7. Drive-
The laptop provides a light laptop without Optical Disk Drive. The windows 10 OS is already installed beforehand in the Acer Predator Helios 300. And is suitable and best in the market for processing, multitasking, and gaming.
We provide an SSD, and the capacity of SSD is 256 GB, the RAM type is DDR4, and the processor variant 10750H. There are two memory slots, and there are six cores provided.
The operating system has an OS Architecture of 64 bit, and the system has Windows 10 Home. The system architecture is 64 bits.
At Flipkart, they provide us with 1-year International Travelers Warranty. The warranty service type is onset. We only cover manufacturing defects in the warranty, and no physical damages are covered under the warranty. The domestic warranty lasts for a year.
At Flipkart, the price of Acer Predator Helios 300 is Rs 119,990 at a discounted rate. The actual price of this laptop is Rs 1,66,000.
Jio Phone Next Specifications | Get the latest updates about Jio Phone Next
| | | |
| --- | --- | --- |
| Model | Price | Flipkart Price |
| Acer Predator Helios 300 | 1,66,000 | Rs 119,990 |
Conclusion
This laptop is definitely one of the best choices one could have. Equipped with many important features and specifications, it seems to be the most advanced device. Get ready to have an amazing user experience.
If you liked the article (Acer Predator Helios 300 Core i7 10th Gen – (16 GB/1 TB SSD/Windows 10 Home/6 GB Graphics/NVIDIA GeForce RTX 3060)), comment down below, and don't forget to share with your friends. Keep visiting us for the latest tech-related content. Thank you, have a nice day.
Connect with us on Facebook, Instagram, and Twitter. Thanks a lot for reading this article. Join our Telegram Channel or you can download the Flipshope extension for the latest tricks and offers. For any queries please Whatsapp us on 9999488008